events at our parish
Announcements:
Welcome back to school! It's going to be a great year!
Click on the flyer to see what's going on this fall then click on the Sign Up Genius logo over there ->
We need you to help us plan and host Leah's baby shower!
Plan the decorations – "Twinkle, twinkle, little star" theme
Decorate the room (October 23rd after school)
Plan the food and cake
Pray for Leah and her little baby!
Help with publicity
Email Melissa if you can help out in any way.
Contact
Melissa Potzler
(716) 662-9339 x 145     mpotzler@nativityschool.net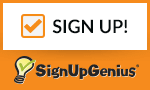 Register here for Capture the Flag
Join Us!
♥   Sunday, October 13th, 2019: HOLY FIRE MIDDLE SCHOOL YOUTH CONVENTION 
Kids in grades 6-8:  You don't want to miss this!  Travel with us by bus to Bowling Green, Ohio and encounter Jesus's love for you in a way like no other! There will be live music, speakers, and activities just for middle schoolers.  Click the poster <—- for details and a schedule of the day.  Parents are also welcome!
We will be leaving On October 13th at 3:30am (you read that right) from East Aurora and will return around midnight.
Prices are as follows: (includes bus, convention, and lunch – dinner will be extra)
If payment is mailed in by September 15:  $87
If payment is mailed in after September 15th:  $97
Checks should be made payable to Immaculate Conception Church
Forms:  Please download and complete both pages.  Return signed forms to Denise Nagle, 43 Argyle Place via mail or drop off.
Payment and completed permission forms are due to Denise by Monday, September 16th.
Cancellations will NOT be accepted after September 20th. Refunds (minus $25) will depend on NFCYM/Holy Fire's ability to refund ticket prices.
Invite your friends, it's open to all 6-8th graders!
Watch here for a glimpse into what the day will be like:
[/section_12]
Middle School Youth Room After-School Hours:
Fall of 2019:  Fridays 2:30-4:30pm
The first day is September 13th.
Walk over and hang out with us after school!
We are taking requests for specific days, email Melissa to put in your two cents.
Bible Study for High Schoolers and Middle Schoolers
Bible Study Group for High Schoolers -Fall 2019
Read the Bible with us!  No experience necessary and we will provide the Bibles.
Small groups are forming now. Email Melissa or call 662-9339 x 128